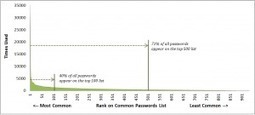 Try this on for size! Of a list of 10,000 passwords tested, 79% were in the top 500 and 91% were in the top 1000. What does that mean? Well, if a hacker is trying to break into your accounts, he could try this relatively small list of password and chances are he would have control of your account. Way too easy if you ask me.
If you care to protect your information, remember these three things about passwords.
1. Use a passphrase instead of a password.
2. Substitute some characters for phonetic or visual equivalents.
3. Use the whole keyboard. Text (upper and lower dase), numbers, and symbols.
Safe computing!
See on xato.net  via- pdxtech-info