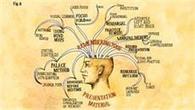 Crush your anxiety with these methods that will help you thoroughly remember all of your slides before you get to them.
1. Use the Palace Method
2. Use mind maps
3. Know the value of focusing for eight seconds
4. Practice the 20-20-20 rule of rehearsal
5. Rehearse out loud
6. Practice to music
7. Record your presentation
8. Rehearse before bedtime
9. Improve your working memory
Improving your memory in general diesn't happen by accident. Practicing good memory habits will help you remember where you place your keys and of course all that important presentation material.
Via Scoop.it – Tech Info for Real Estate – Via www.openforum.com