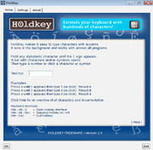 The easiest way to access all those frequently used characters not available on your keyboard.
Do you find yourself trying to remember the Alt code for ñ? With Holdkey you just hold the basic key, wait a couple of seconds and choose from the available options, just like you do on your iPhone.
No learning curve, no ads, no toolbars, just the characters you want.
See on Scoop.it – pdxtech-info